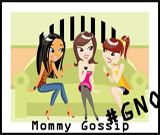 Have you read Twilight?
I did. I was totally
obsessed
. Read the book and THEN read the
whole
Stephanie Meyers website. If I had seen the mass Edward shirts? I would have bought one. I would have dressed up as Edward for Halloween for Pete's sake.
Then.
I read the second book.
Um? Not so good. And when I realized it wasn't ending? And all that stuff about Jacob...NO...Edward....NO...? Oh brother. Not for me. I did read the third one, but only barely. Oh let me guess there's going to be a 4th book. No thanks. Just KILL her off already!
I guess it's like sexual angst, only it's Should I Kill her instead of the whole virginity issue? Blah?
Convince me? The Fourth one...Or not?
One last week here at my site...Mr. Linky is here for your enjoyment.
Join us for #GNO
. Sign up YOUR TWITTER URL to play on Tuesday night! (And get your love/hate post up for the follow up Topic Talk--We will be highlighting your posts over at the GNO blog!)
Oh. And you have to admit
this
is kinda funny.
I'm not really anti-twilight, so don't send hate mail just yet...
I vote for THIS kinda TWILIGHT...
All the GNO details over at:
mommygossip-gno!
New
Guest Tweet
for you to check out.