Have you seen great hats like this? I have. And I immediately think when I see 'em, "I can't pull that off".

I'm still not sure how I managed to get this hat? Rhea over at
TexasWordTangle
, (is that the best name for a blog or what?) was having a great contest giveaway. (This hat was part of it!) She had a whole assorted set of stuff to give away. Hers happened to take place during the same time I was having my first contest. I entered her contest and did not win. She entered my contest and DID!
I was joking with her about finding out that some people will not give out mailing addresses, even when they win a contest (why do they enter I was wondering). I asked if she was going to be that kind of winner? (No, I sent her the bag) Turns out one of her winners didn't respond or wouldn't give out their address... I whined a little that sheesh, I
really
wanted one of those GREAT PINK HATS! And she was all, sure why not, I have an extra one anyway.
And via the great postal system, our two contests passed in the night. She ended up with a great pink silk tote, and I with this cool hat.
What do you think? Can I pull it off? Yee-Haw! And all that?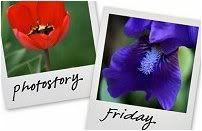 Hosted by Cecily and MamaGeek