Mormons are strange. I should know. I am one.
We have this belief that God is like a loving Father who lives up in Heaven. We often start out prayers with: Heavenly Father...
We have this second belief that Jesus Christ is pretty much the oldest child of that Heavenly Father. That Christ is a Son of God. And we are also sons and daughters of God. So Jesus Christ could also be thought of as our older brother? We close a prayer with: In the name of Jesus Christ, Amen. He's like the mailman older brother for our prayers.
We have a third belief that the Holy Spirit is exactly that. A spirit. That if you listen with your heart more than your head, this spirit will guide you.
Now for a story.
I have a friend who I know from New Jersey.
One day she left my house with her little boys. I proceeded to think about what to make for dinner. And then I had this nagging itch to shake out my back door's rug ...RIGHT NOW. It was nasty. And it had been for a while. I had so been ignoring all the dirt clods building up. But FINE, I opened the back door and began shaking that rug.
And right then I heard the loudest Mommy scream I have maybe ever heard.
And I lost the next 5 seconds of my life.
I can't remember what happened next. All I know is when I snapped to...there was a four year old under my butt and I was sitting in the front seat of my friend's Durango with my foot on the brake.
See. Her little boy had fallen and scraped his knee and while she was helping him, the older brother jumped into the front seat of the truck and managed to get it into reverse and it was gaining speed and heading down the driveway into a busy street....
My friend ran up to us and yelled at me. What are you doing! You could have been hurt! I was still in shock and not sure WHAT I had done?
She then said:
"I'm SO glad you're a Mormon!"
I kept thinking I'm so glad I went to shake out that dirt filled rug. If I had ignored the silly prompt....?
---
We have this funny other belief. That we can totally live with our family IN heaven. Crazy huh? It should be one giant rockin' family reunion is all I can figure. But I miss my grandmother who passed away earlier this year. And knowing I get to see her again and maybe even eat her 'flour mush' again...THAT's a good thing I choose to believe in.
(Flour Mush is it's whole. own. post... I promise).
We choose to get married in temples. Where we are 'sealed' together.
...until death do you part...
isn't part of our ceremony.
The Medford Temple.
My kids trying to figure out the compass engraved in the Cement.
Which way does that statue on top face? Oh, right, East.
It's Moroni. An Angel with a trumpet.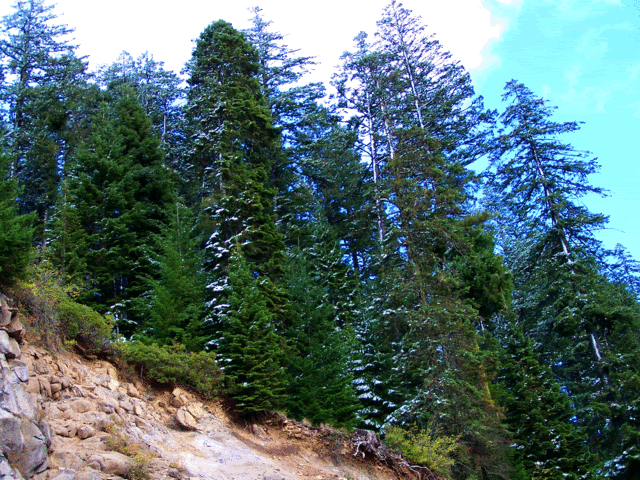 This is what the drive over to the temple looks like.
Yes. THAT's SNOW.

More Church Chats. And Dana Carvey in a Dress. But not my husband...yet...