It started out as a conversation.

A conversation with one of my new twitter friends and online buddy: Carole. Of Hippostoes Fame! See her fun new clothing line! And her great blog of course! Back to that design conversation....
Something like: Can we use that cool Giraffe fabric with something red?
I'd love to have a great bag for me, could it double as a diaper bag?
Great! Carissa said "you just tell me how we should put it together".
Carole: Um...no I don't like the toile so much.
How about that stripe I saw on the site?
Carole: Oh? Now I'm not sure about the stripes AND the Paisley?
Carole: No. The stripes and solid isn't it either?
Carole: Hmmm. Maybe? Can we still have the stripes someWHERE?
On the straps or something?
Carissa said no to the stripes on the OUTside of the straps.
(She can be so mean.)
How about on the lining of the straps, instead?
And Voila. A new mom bag, (can be used as a diaper bag--or NOT!)
Here it is right after it was all cut out...
And because I can't leave well enough alone?
I made her a matching Toddler Pod.
You know.
For the times when you don't want to take the whole bag out to change the diaper?
Like during church? Or going to Target?
It easily holds a couple diapers and those bagged packages of wipes and a sippy cup!
I added a wrist strap. And a key fob.

Now for another Design Story...
Shhhh...
I am getting custom artwork for Apricot A Lot! Yay!

Would you just soooo love to have a real artist doing real custom design work for you?
Not just importing pictures and graphics from photobucket? But the real deal?
As in NO ONE else will have the same image at the top of THEIR blog!
Here's a preview of my new Logo!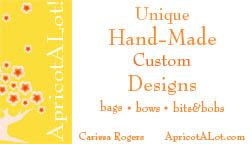 Go ahead drool a little...careful of your keyboard though.
Now go see more of Gretchen's work:


(I've heard her called the French Mary Englebreit---
I call her friend.
If you like little Fairies...check these out!)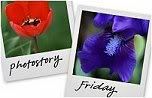 Hosted by Cecily and MamaGeek