DUDE Vegas Technical Difficulties



Sorry this is late!!

#BWE09/#SITScation

I got to travel with @leeloublogs and her baby from Oregon to Vegas...

You know? As in Julie from

LeeLouBlogs.blogspot.com

!!

You're jealous aren't you? Admit it.

How fun is that!

My 'Travel' Hair... and my friend and local mommy blogger I love:
@leeloublogs Julie is a fabulous blog designer.. get to know her!
LeelouBlogs.blogspot.com


How cute is this? She brought her mom along to watch her even cuter baby!


I'm not sure who slept more.. the baby or ME!
Stay tuned for my top 10 list from BlogWorld and SITScation...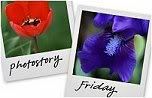 Hosted by Cecily and Carissa
To play PhotoStory Friday, check this. Then copy the code below into your post and sign the Our Blurbs Guest List.
<center><font size="-2"><a href="http://whatworksforus.blogspot.com/2007/06/iphone.html" target="_blank" alt="Photostory Friday"><img src="http://i212.photobucket.com/albums/cc50/whatworksforus/pfws.jpg" alt="PhotoStory Friday" border="0"></a><br/>Hosted by <a href="http://mychaosmybliss.blogspot.com/" target="_blank">Cecily</a> and <a href="http://goodncrazy.com/" target="_blank">Carissa</a><p/></font></center>