If you add one letter it becomes:



Husband's firm opinion is that crap doesn't disappear. It just exchanges hands from one garage sale to the next.



And the next...

Believe it or not there's more. A loveseat, a futon, a large and very heavy desk, an antique little chair, A TV and it's stand. It's a Sony. And I quote all three of the guys who came to give moving quotes: "Oh. A Sony eh? They are the HEAVIEST brand of televisions." Who knew?
Believe it or not. I love this part of a move. The cleaning out the crap part! I vow nothing that goes out to the garage sale comes back in, Yay!
You're invited on over to my place. Fall into the Crap!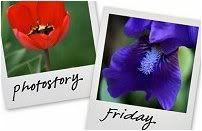 Hosted by Cecily and MamaGeek